23rd February – Update
Full School Reopening
Denbigh Primary School will be open for all pupils from Monday 8th March.
February 2021 Update
Half-term
Denbigh Primary School will be closed for all pupils during the half-term break from Monday 15th – Friday 19th February 2021.
Teachers will not be available for online learning support during the half-term break.
Work Packs
A second set of work packs will be available for pupils In Reception, Year 1, Year 2, Year 3 and Year 4 on Thursday 11th February.
Packs can be collected between 10:00am and 2:00pm from our Denbigh Road entrance.
Pupils in Year 5  and Year 6 should continue with the online learning provision.
Denbigh Primary Book Bus – Wednesday 3rd February & Wednesday 10th February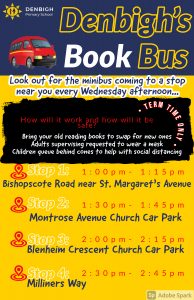 January 2021 Update
School is currently open for children of key worker parents, and for our vulnerable pupils. Online learning is provided through our website (denbighprimary.com); and physical learning packs are available.