CLICK HERE for a great story that can help your children understand the importance of washing their hands.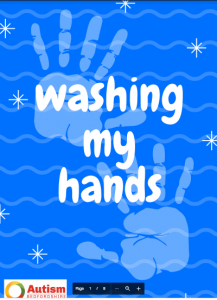 Maths Activities
Practise counting backwards from 20. This can be done through playing hide and seek, singing number songs, chanting, board games etc.
Write out the digits 0 – 9.
Set your child a shape finding challenge around the house. Ask: Can you find a triangle/ square/ rectangle/ circle in this room? How many can you find? Can you draw all of the circles on one piece of paper, triangles on another etc.
Sing Number songs to practice counting, reciting numbers in order, one more, one less using number songs: Five Little Ducks, Five Little Men, Ten Green Bottles.
Reading Activities
Read a variety of books at home. Favourites can be repeated. Hearing the patterns of language in a story will support your child's language development.
Children read to their parents daily. Visit Oxford Owl for free eBooks that link to your child's book band. You can create a ​free account​. Complete the linked Play activities for each book.
Phonics Activities
Daily phonics – Practice the sounds your child is working on and blend words. This can be oral blending (e.g. spoken out loud c-a-t) or written if appropriate.
Sing Nursery Rhymes and songs together. Add in actions and change the words. Can children think of different rhyming words to add in?
Five Little Monkeys
The Wheels on the Bus
Topic Activities
Exploring with your senses
Gather a collection of household objects e.g. fork, cup, toothbrush, teddy bear, book and show your child. Use a scarf/ material as a blindfold and pass your child one of the objects. Can they figure out what it is through touch alone? Give clues if they are struggling. Swap roles and ask your child to give you an object to figure out.
Explore the textures around your house. Can children find something rough, smooth, bumpy.They could take a wax rubbing of each texture (Lay a piece of paper over the top and rub over with the side of a crayon). You could continue this into the garden.
Junk model your house
Using old packaging (shoe box, cereal box etc.) support your child to make a model of your house. Can they count how many windows there are and stick on the right amount? Can they write their house number on the front?
Junk model your dream house. Use materials from around your house to decorate e.g. old wallpaper, fabric, wool.